About SERVPRO of San Gabriel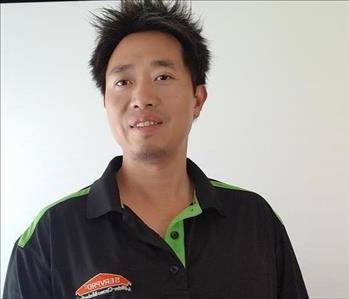 Eric Ho
Owners of SERVPRO of San Gabriel
Our History:

Serving you since 1967, SERVPRO is the cleaning and restoration brand you know and trust.
Here at SERVPRO San Gabriel, we understand the stress and worry that comes when you experience a fire or water damage event. Our goal is to help minimize the interruption to your life and quickly make it "Like it never even happened."
SERVPRO of San Gabriel is Owned and operated by Eric Ho. Eric has over a decade of experience remediation caused by water and fire damage. Prior to acquiring the franchise, Eric owned a successful remediation business in the San Gabriel Valley. when the chance presented itself, he jumped at the opportunity of acquiring SERVPRO San Gabriel. Now as a local SERVPRO owner, Eric has a larger platform and support network to better serve the community.
No damage is too large or too small. Specializing in the cleanup and restoration of residential and commercial properties after a fire, smoke or water damage event. We also offer mold remediation and biohazard cleanup. We have the local experience, training, and staff, to quickly get your property looking it's best. Our team will always be "Faster to any size disaster" Guaranteed!
In recent years, our business has grown significantly. We attribute that growth and success to always doing the right thing and placing our customers first. We are there to guide and consult our clients through every step of the remediation and clean-up cycle.
Part of the Community
We are proud to be part of the community we serve. We speak your language! Whether it's Mandarin, Cantonese, Vietnamese or Spanish. We have the ability to communicate with all our valued customers. We are also very proud to include former veterans as part of our winning team here at SERVPRO San Gabriel. The knowledge, discipline and attention detail make them a critical part of our team
Your satisfaction is our goal! Give us a call us today and see why SERVPRO of San Gabriel are the best at what we do! 626-478-0286.
Why SERVPRO?
SERVPRO is the leader in the restoration industry. Our motto is "Like it never even happened." We offer the highest possible standard of professionalism in the restoration, cleanup, and mitigation of your home or business and have gained the reputation as the premier water, fire and mold remediation service in San Gabriel Valley and Temple City.
Certifications
AMRT - Applied Microbial Remediation Technician
ASD - Applied Structural Drying Technician
CCT - Carpet Cleaning Technician
FSRT - Fire & Smoke Damage Restoration Technician
HST - Health and safety Technician
IICRC Certified Firm
RRRP - Lead-Based Paint Activities and Renovation
SCI/SPI/SEN - Carpet Inspector
WRT - Water Damage Restoration Technician
Offering Residential and Commercial
Water 'Damage Restoration
Fire Damage Restoration
Mold Remediation
Storm Damage Restoration
Cleaning Services



CALL US TODAY:
SERVPRO San Gabriel/Temple City
4961 Santa Anita Ave #D
Temple City, CA 91780
626-478-0286
Insurance and Payment Information
For a stress free claims process, SERVPRO works with your insurance to help manage the insurance process and paperwork.
We also accept the following credit cards for your convenience:

Certifications
ASD - Applied Structural Drying Technician
IICRC Certified Firm
RRRP - Lead-Based Paint Activities and Renovation
WRT - Water Damage Restoration Technician